August 31st, 2010
Comments off
I missed Saturdays win over Chicago, but it sounded like a fun game with Montero scoring the winner in injury time.
This was a huge game for both sides, and not because of Freddie's return, but because of the points on the table and the two sides battling out for the final playoff places.
This is the combined MLS table, if the season were to finish today Seattle would be in as 4th seed in the west and would get a first round game against the fading LA Galaxy. Recent form shows LA are not nearly as fearsome as they were in July when they took Seattle apart at the HDC.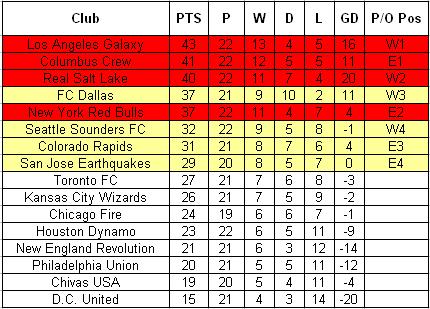 However this only shows part of the story and can be safely ignored for now as there are a lot of teams with games in hand (GIH) over Seattle. If these teams win out (impossible I know as they play each other, but it's worst case we are looking at here) the picture for the Sounders is a little less cut and dried.
Today Seattle has 32 points and Chicago has 24 points, at first glance a healthy lead for Seattle. However Chicago have played three games less than Seattle. This means 9 points to Chicago if they win those games.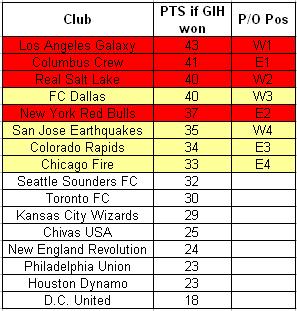 That would move Chicago to 33 points, one ahead of Seattle and drop Seattle to 9th in the second combined table that assumes teams win those games in hand (GIH). This pushes Seattle out of the play-offs by one point.
To give the short version of events, the game in Chicago on September 26th has become a very important game. Win there and Seattle controls their own destiny into the post season. Loose and the road to the play offs requires the Sounder Nation to concern ourselves with other peoples results.