It turned out to be a fun game to watch. Seattle was not outclassed and can feel a little unlucky to have come out of this one with nothing. Both teams had good spells; LA spent most of the evening with five across the midfield and did a good job at spoiling the through balls to the Seattle attackers.
LA's tactics in neutralizing Seattle were more effective than most other teams. They packed midfield and man-marked Alonso in the middle. This made it difficult to get onto any balls passed to the attackers on the outside.
The LA keeper Donovan Rickets had an outstanding game, very solid when Seattle managed to get the ball into the channels.
Seattle had the ball in the net in the first minute of play. Alonso let his marker with a cut back and got space for a shot. Zakuani got onto the rebound and put it away. Unfortunately Zakuani was offside and the flag went up.
Shortly before half time Edson Buddle turned Pat Ianni around and made a wonderful lob that gave Keller no chance. That was the only score of what was an entertaining game.
The ref had a poor night, he let the game get away from him somewhat and allowed some heavy tackles go unpunished, especially in the first half before tightening up after the break. Seattle has something of a history with Salazar and his calls. Most players want consistency from the ref and they did not get it this evening.
Despite all that LA probably deserved the win, certainly Rickets kept them in the game, but they had more control and the better chances.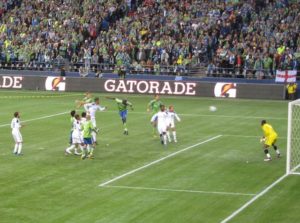 Interestingly Zakuani and Nyassi seemed to spend a lot of time on the opposite wing from where they normally play on. Not sure why they played so much out of position, it did not seem to create much but did give LA something they've not seen before.
There are some good signs for Seattle, they did OK in the final third of the field and got some good looks. The LA defence looks vulnerable and if they can find space in the middle of the field and win a few more of the 50/50 balls they have a chance to pull a surprise in LA next weekend. This tie is a long way from over, next Sunday should be a fun game.
Lastly, lets not forget this was Halloween and there were a lot of costumes on show (again, I don't understand the dressing up part, but it makes for fun people watching). There was the cookie monster in the Pyramid brewery before the game, A Sounders green Kermit the Frog and a few seats along from me the Wicked Witch of the West.