A very interesting hour with the surgeon to go along with more testing. We spoke last week, but that was business and I was not at my best, today he gave me an hour of his time to go over what happened last week and what happens next.
I'm starting to understand how difficult the surgery was, all the work was done looking through a microscope with tint drill bits (and I got the technical specs Min wanted) through a 2 inch inch by two inch incision.
He was talking about the method he used, why it was made more complex by the "high routing" of my Sigmoid Sinus and internal Jugular ("I was drilling and I saw a lot of blue through the hole It's not often the nurses stop talking, but the theatre was very quiet just then…").
He then pulled out a book to show what he was talking about. It was slightly disturbing, but it's not often you get this sort of uninterrupted time with a great surgeon talking about something he is very passionate about. It was disturbing because he's talking about me in such an off hand way.
"Now I've never actually blown out a jugular myself, but it's very messy and was a real worry…"
He looked at me and I think and realized I'd like a little reassuring at this point.
"But we had patches ready…"
Pause…
"And you have two of them…"
Pause…
"And its draining blood from the brain, not sending it in so we would have had time…"
OK, starting to feel a little better…
Then we went to the white board and the play by play of what the issues were. Where my Sigmoid runs, where the cancer was, what they were able to remove, where they removed bone and what the Ti insert in my ear looks like.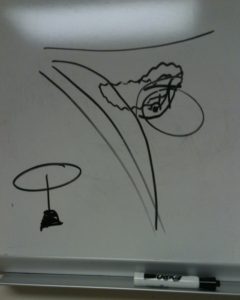 He said this was the toughest one he's had in a few years, but in the end it went as well as it could have gone. I feel happier and happier with the staff around me, they have taken great care of me every time I walk into the office. The down side is they never got all the tumour, in his opinion chemo is going to be required and that we will need to cut at least once more in a few months time.
I took a balance test and a couple of hearing tests. It seems the nerves in my right ear are in good condition despite only hearing in mono for now. There is some damage, but I could get some hearing back, but that may need some reconstructive surgery in the future.
The balance is a worry, he said it's OK to drive on, but not too far and no going over the passes. My right ear can't cope with the pressure change and being able to fly is a month or two away.
I've a long list of what I need to do over the next few weeks and months. I've a couple of doctors appointments next week, with both the surgeon and oncologist. It's going to a long few weeks and I've still a lot of pain, but I feel more confident than ever in my choices.