When I moved back in…
Here are what I'd describe as "the greatest hits" of the state of the house. Click on any of the photos to bring up a bigger one (you may have to click a second time too). In total I have over 100 pictures of the damage. A mutual friend who warned me about the smell a few weeks ago may have put it best [deleted]
To be fair there was an attempt to patch a section of wall where the younger kid kicked holes in the drywall, but it's so poorly done I need to take it all off and redo it as it sits 1/8 to 3/16 proud of the wall and the texture does not even come close to matching. The photos don't really show the problem super clearly so I'm getting a written estimate with description of that and a few other issues that did not photograph very well.
There was even an old piece of dog feces under the sofa. Seriously she was living like this.
These were taken as soon as we arrived at the house Friday so there was no chance for a "it was not like that when I left" excuse. A friend helped move Friday and walked the house with me while I took the photos.
I had the carpets cleaned yesterday and took care of the worst of the rest yesterday and today. I have cleaners coming in tomorrow to finish the rest off.
I've got some costs already and will try to get quotes to put the rest right as you suggested. I got a quote for the time in the kitchen last year. To remove the old tile, colour match the grout and fix it correctly (and this is with me supplying the tiles) was well over $200.
Thanks for the help in getting this done, I'm in and that's the important part. The rest is just more money to add to the bill and dealing with the next round of passive-aggressive behavior.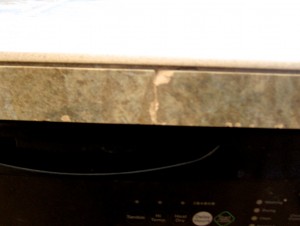 Tile damage in kitchen – the 10 year old did this about a year ago. It's a tile kitchen counter and the tile is broken with large chips missing now.