And why am I here?
dave@davekean.com
I have kept a diary on and off since I was 13 or 14. I'd write for a while, loose interest only to pick it up again at some point in time down the road. I've found that reading what I had to say years later has been a wonderful thing. It reminds me of great times that I'd long forgotten and provides a glimpse into my emotions at the time. Even when the stuff is banal there will be something that will give me the "Oh yeah…" moment.
I've had this site for about a decade and it's been through quite a number of iterations. The current version is not designed to be a traditional diary, if it's archives provide something of a inspiration to me in a decade or so that would be great, but it's primarily a writing and sharing exercise
I am trying to improve my writing, to force myself to think about how things make me feel. Sometimes it will be well thought out and reasoned, other times it will be quickly dashed out and not edited. So there will be mistakes and things that are frankly going to be rubbish and embarrassing. That's OK, there has been plenty of rubbish here in the last year.
I also like the idea of recording the day-to-day minutia that usually gets forgotten. The odd characters I spend time with, along with both the bizarre and normal happenings that make life so interesting.
There are some very fundamental differences between a blog and a diary. In either you inevitably end up writing about yourself, your opinions and how you see the world from your point of view, after all you are the fixed point around which this slice of the world revolves. In short it's my blog and I'm allowed to be self indulgent, damn it…
The biggest difference is that a diary is always intended as a private forum. Its honesty and dedication to marking life as it happens makes it so important and finding out someone's been reading an old diary of mine was very upsetting.
A blog, unlike a diary, is public the moment you press the "Publish" button. It moves this personal writing into a very public and immediate forum. Like a diary it was going to be just for me, in part because I am sure that there is going to be a lot of mediocre writing and partially formed thoughts, but I know there are people who have been interested in what I have published up to now, and that encourages me to continue with it.
Another big difference between a diary and blog is that good blogs have to take a look at, acknowledge and share the wider world out there. This link to the wider world does not exist in a diary. Posting links to support arguments, disprove others and share the entertaining is one of the things that make this such a potentially dynamic medium, and this is not something I've done very well up to now.
As I've said before being a public forum makes it interactive. I did not understand that when I started this, so thanks for reading, for your feedback, emails and comments, it all makes a difference.
It's going to be a little bit of a departure from the last year, maybe evolution is a better way of putting it. We'll see how it goes.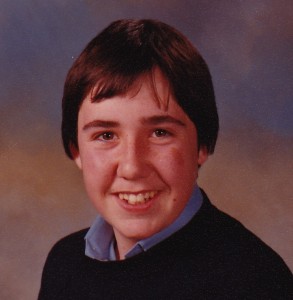 The Secret Life of Dave Kean, age 43 1/2

The house I grew up in… A cozy semi in Guildford, a huge park at the end of the road and friends even closer. I loved growing up in England.
When I was a child I wanted to be… Typical boy stuff, pilot, racing driver, Ice cream taster.
The moment that changed me forever… Being a cancer survivor. Emerging from my own annus horribilis and knowing who I am, what I can really endure and who my friends really are.
My greatest inspiration… Dad. Ethics, fun, loyalty and hard work all come from him. He encouraged me to go find a place in the world that makes me happy.
My real-life villain… Dan V, biggest arse I've ever worked for.
My style icon… James May and the "normal bloke" look
If I could change one thing about myself… it would be my lack of motivation and idleness that strikes me occasionally. Deep down, most of us are lazy.
At night I dream of… Very, very rarely remember my dreams.
What I see when I look in the mirror I see… someone whose older (and hairier) than I remember.
My favourite item of clothing… A black sports coat that I've been told looks good with almost anything.
I wish I'd never worn… a black miniskirt, it's a long story.
It's not fashionable but I like… role playing games, my little geeky secret.
You wouldn't know it but I'm very good at… reading maps, I love maps and knowing what's over the next hill.
You may not know it but I'm no good at… networking, I get rather shy.
All my money goes on… if I had my choice, race cars.
If I have time to myself… I will spend it pottering about in the garage, there is always something that needs to be tweeked.
I drive… A white Miata, my post cancer present to myself.
My house is… a place I can sit and admire the view.
My most valuable possession is… my utterly impractical car, no mater what's gone on in my day driving that makes it all feel better.
My favourite building… Qwest Field on matchday, a sea of green yelling for the Sounders.
Movie heaven… An afternoon of classic war movies. A bridge too far, The longest day, Dirty dozen and The great escape.
My favourite work of art… Lichtensteins "Whaam!" in the wonderful Tate Modern in London.
The people who really makes me laugh… Rick Mayall and Ade Edmondson.
The shops I can't walk past… Book stores, if it's an independent then the credit card is coming out…
The best invention ever… Amazon Kindle, it's awesome and I would not travel without it.
In 10 years' time, I hope to be… still gently working along my career path, living in Europe again with my tremendous family.
My greatest regret… Not working harder at school. I sometimes think I could have done something more serious.
My life in seven words… An interesting, unplanned journey, rewarding and happy.