2011 was a good year for F1, the stats are excelent, more over taking thanks to a combination of aero changes, the Drag-Reduction-System (DRS), the Kinetic Energy Recovery System (KERS) and the tires that gave tremendous grip, for a while.
But it could have been more competitive. Perhaps we were just spoiled by maybe the best championship in the history of the sport in 2010. With Kimi Raikkonon returning for 2012 (admittedly with Lotus) there are 6 world champions on the grid, and that's got to be good.
Lets be clear, Vettel won his second world championship in style. It became little predicable and was wrapped up with four races to go. But such was the speed of Vettel and the Red Bull that there was little real doubt after Valencia. The constructor's championship (which is what the teams get paid by) was tied up one race later.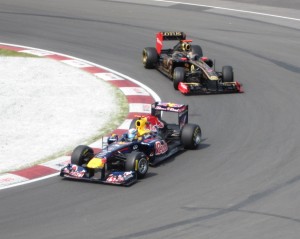 Vettels ability in the first couple of laps to pull out a significant lead over everyone was astounding. That first lap was critical and made it clear that baring a mistake, everyone else was running for second. Continue Reading