Seattle 1 – Houston 1
Another immensely entertaining game at Royal Brougham Park (or Qwest as some insist on calling it), the result was not great, but if Seattle continues to play like they have in the first three games then it's going to be a great season.
You can pretty much substitute what I had to say after the LA and NYRB games here and be close. Chances, misses and great goal keeping would all be included in what I had to say.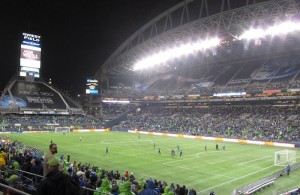 Seattle were ultimately denied by some great goal keeping by Tally Hall, the reflex save to the goal keepers right from White (I think) in the first half was top class. Settle tried the tactic of shooting form outside, then inside and Hall seemed the equal of that idea. It's difficult to over estimate how masterful the experienced Houston keeper was tonight.
Houston scored first, and rather against the run of play it must be said. Geoff Cameron beat Keller after some good build up play.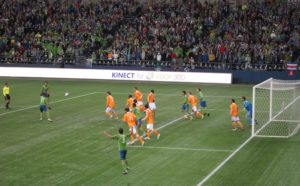 Erik Friberg seemed to be part of every Sounders play tonight, he worked tirelessly. Covering back when he needed, probing forward and supporting the attack when he could. A very impressive performance.
Jaqua finally made it onto the pitch, he replaced the largely ineffective White at 61 minutes. His presence was felt immediately with a run at goal. Just being on the field seems to open up Montero's game. The center backs now had two top class threats to take care of and it seems to create a little more space just in front of the defence.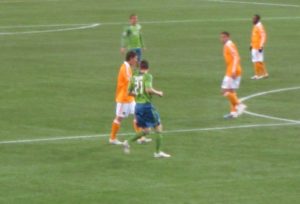 There is more on the good news front. Zakuani looked close to his best, lots of great runs and scored the first Seattle goal of the year. It came from a badly cleared corner that fell to Zakuani, who neatly put it away. It came during a period of solid Seattle play and the stadium erupted, the spell had been broken and we were back in this one.
Yes there are worries. primarily Montero not scoring again, I think the introduction of Jaqua opened up a little more space and he had a couple of good attempts saved tonight. It will come for Montero, and when it does I think the floodgates will open. He's too good, but I'm sure the European teams that have looked at him over the last year have noticed the dry spell that goes back into last season.
Seattle has been in all three games so far this year. A little luck and they could be on 7 points rather than the one. Lots of football left to play over the next 7 months.