Sounders 1 – Timbers 1
There are a number of talking points that I'm sure will be picked up elsewhere from last nights game.
The tifo from ECS was outstanding; there was no other way to describe it. Nine large panels that involved all incarnations of the Sounders teams over the years. I'm sure there are plenty of better pictures on the net, it's worth looking for.
The weather was awful. It started raining about 45 minutes before kick off and at lunchtime the following day it's still pouring down. A plastic pitch that wet does not improve a teams passing game.
There were no yellow cards handed out, this is startling. I'm not sure the ref had a good night and I think he missed a few things, including a solid looking hand-ball off a Levesque cross with about 15 minutes left to go, but the two teams were very disciplined.
Injuries continue to decimate Seattle. With Friberg spraining his ankle on Friday and the rather injury prone Brad Evans coming out before half time with a groin strain that will keep him out a couple of weeks. This is on top of the injuries to Zakuani, White and Rosales. That's five attacking starters who have scored 8 out of the 12 Seattle goals (and 10 out of 14 assists) unavailable last night.
The atmosphere was everything you'd hope it was going to be, loud, passionate and 36,593 people were treated to a proper rivalry game. While it ended 1-1 it does feel a little more like a loss in the cold light of day. The first half was very even, both sides had chances but no one was able to take advantage and find the back of the net.
Seattle came out after the break playing a far more assertive game and on 52 minutes it paid off when Fernandez got on the end of Montero flick that was started by Roger Levesque pass (who else would set it up other than the two players Timbers fan hate the most?) and finished it beautifully.
The building erupted, not just from the goal but from the weeks of build up, nervousness and anticipation that got released. It felt really good.
However it took less than 10 minutes for Portland to come back, and predictably it was from a set piece. Danso headed home a Jewsbury free kick.
The second half of the game opened up and ended up being a rather entertaining second half after the stalemate of the first. Overall it was a good game to watch, but I still came away as unsatisfied as I was wet (and I was soaked through).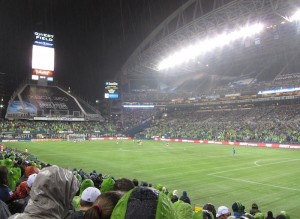 Some more thoughts, this time on Seattle's play.
Jaqua was totally anonymous last night, he has no first touch and is seemingly unable to win 50/50 balls. I get that with Seattle's impressive injury list he may be the best option left, but the team needs to so something.
Fernandez was excellent again, and after the last couple of games has hopefully cemented his place in the starting 11.
What does Fucito have to do to get into the game? OK, Levesque is the default next option with the injuries, but how does Neagle stay ahead of Fucito in the pecking order?
Seattle has very little presence in the air, this goes beyond Jaqua and to the entire defence. They had the chance to clear the free kick that lead to the Portland goal, but got beat to the ball.
The ball is getting to Keller way too much. The central defenders need help in stopping the balls into the box and relying on Keller to keep us in the game.
I think Seattle has very knowledgeable fans who understand the game. I'll give a certain amount of latitude to the coaching staff with all the players out right now. Having said that, there really does not seem to be that much intensity or consistency on the pitch for long periods. And it's being noticed in the seats.