Last night was the Sounders first league game, another big night under the lights against a decent team. Midweek tonight's opponents Toronto booked a place in the Champions League last four. They did this by doing something Seattle has yet to manage, beating LA at the Home Depot Center.
Coming off a 6-1 hammering in Mexico Wednesday night there were questions about what Seattle Sounders we would see. We need not have worried; this team was over the Champions League elimination and opened their league season in style.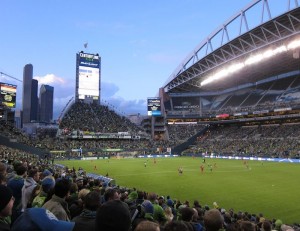 Last week David Estrada scored against Santos, tonight he got his first league goal. And quickly followed that with two more tonight to complete the routing of Toronto 3-1. It was a very solid performance from Seattle.
The Alonso-Evans-Fernandez-Rosales midfield looked extremely confident and was in control all night. This team played a great game all over the field, at the back JKH was back to his usual steady self after a horrible game in Mexico.
It's difficult to find any real issues, Montero was perhaps a little quiet and struggled to find space. With Zakuani and Eddie Johnson still to come back from injury, this team really could be special this year. I'm just not sure who moves aside to make way for them.
It was a very solid team performance, play like every week and there is no team they should be scared off. Next up is Houston Friday night.